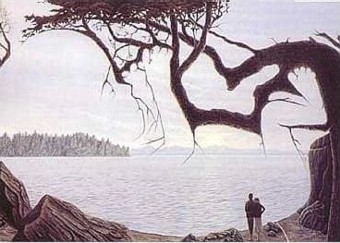 Let The Children Come

Burial of Pre-Born Children
They Are Children
In harsh clinical terms, hospitals will call them products of conception. At the Catholic Cemeteries, we prefer babies. Rather than disposal, we offer burial. They are children who do not come to full-term development in the womb.
Within our Catholic Christian faith tradition, we believe that God's eternal love offsets the children's lack of earthly viability. In God's sight, a human person is loved and cherished for being, not for doing; for simply existing, not for the number of days alive. Shortness of life and weakness of body mean nothing to our God who transcends these limitations. So, we look upon the babies, in their smallness and vulnerability, like any child of God—long-lived or not. For at some point all of us will die, our viability will cease.
Cooperative Burials
Any pre-born baby who dies before 20 weeks gestation and/or weighs less than 350 grams (about 12 ounces) can receive reverent interment at Holy Cross Cemetery or Pinelawn Memorial Park in the Milwaukee area through the cooperation of the Archdiocese of Milwaukee Catholic Cemeteries, Pinelawn and Wheaton Franciscan Healthcare through four hospitals of the Milwaukee area [Elmbrook, Franklin, St. Francis and St. Joseph] and Columbia/St. Mary's Hospital in Milwaukee and Ozaukee County. Now also participating are Froedtert and Children's Hospitals in Wauwatosa.
A pre-born child from the Kenosha area can receive reverent interment at All Saints Cemetery in Pleasant Prairie through the cooperation of the Archdiocese of Milwaukee Catholic Cemeteries and the United Hospital System [St. Catherine's Medical Center and Kenosha Medical Center] sponsored by the Wheaton Franciscan Healthcare.

Schedule of Burials in 2013

December 5

Schedule of Burials in 2014

January 16, February 27, April 10, May 22, July 13, August 14, September 25, November 16, December 18




Families and friends of the pre-born children to be buried are most welcome to participate in the service and to visit the common grave.
Larger and older infants have private, individual burials arranged by family. Families can always make private burial arrangements for their child, no matter what size or age.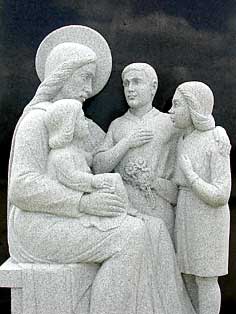 Choices
So, how does it work?
Before the mother is discharged from the hospital, each family is asked to make two choices: family arranged burial or charitable burial.

Then, these further choices: Christian burial at Holy Cross Cemetery in Milwaukee or at All Saints Cemetery in Pleasant Prairie in a common grave or non-sectarian burial at Pinelawn Memorial Park in a common grave. (Note: there is no option at All Saints for a non-sectarian burial.)
Every six weeks or so, after communication with the five histology labs, Holy Cross Cemetery personnel travel to the hospitals, bring the babies to Holy Cross and place them in a common burial vault for their Christian burial. The number each time varies, but usually falls between 20 and 40. Each child is recorded individually in our burial records by the exact burial location. Thus, anyone can locate a little one and visit that specific burial place.
(Our personnel also bring the children to Pinelawn for the families who have chosen burial there.)
The Archdiocese of Milwaukee Catholic Cemeteries provides the grave space, concrete vault and labor to perform the burial. The Outreach and Support Coordinator at Holy Cross (414 438 4420 x128) coordinates the process involving many people at the participating hospitals and cemeteries.
Families interested in being present are welcome to attend. But they should contact the Outreach and Support Coordinator (above) if the pregnancy ended within two weeks of one of the scheduled burial dates so we can verify that the child will be released from the hospital in time.
On the day of the burial, the Catholic Cemeteries' Spiritual Director, Father Marvin I. Lazarski, prays the Rite of Committal from the Roman Catholic Order of Christian Funerals at the graveside within the Infant Memorial Garden at Holy Cross Cemetery (Block 17, Section F) in the presence of families, friends. On each burial day at All Saints Cemetery, a chaplain from United Hospital System will pray for the pre-born children and those who mourn their loss. The closed burial vault containing the mortal remains of the children is already placed in the grave.
Compassionate and Comforting
This is one way the Cemeteries of the Archdiocese of Milwaukee serve the entire Christian community of southeastern Wisconsin with charitable burial assistance at a very difficult time.