At the all main gates of our cemeteries stands a cross in the center with flights of doves around it. At the sides stand two large flights of doves pointing upward. This reflection dwells on the inherent hope and promise of a cemetery as the burial place for thousands of faithful disciples of Christ.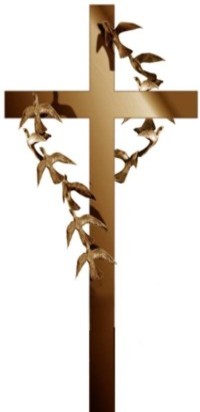 Oh,
that I had the wings of a dove!
I would fly away and be at rest.
— Psalm 55:6

Ascending doves around
the cross of glory.
The cross is empty.
Our hopes are full.
The cross — rooted in earth,
from which we are made,
to which we shall return.
The doves — defying gravity,
soaring upward in flight,
lifting up our hopes.
By Christ's Cross & Resurrection,
we have been set free.
So, when you enter
our Sacred Burial Grounds —
do so with faith in Christ's Triumph over sin and death,
do so with reliance on Christ's Resurrection to new life.
Be not downtrodden nor troubled,
lift up your heart, renew your spirit.
Hail, O Cross, our only hope!

In This Area —