N E W S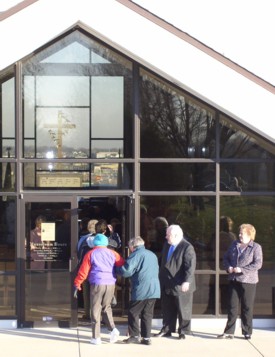 MEMORIAL MASS FOR THE FAITHFUL DEPARTED CELEBRATED BY ARCHBISHOP TIMOTHY M. DOLAN ON SATURDAY, NOVEMBER 19, 2005
Second Page of Pictures
Added February 24, 2006
~ ARCHBISHOP DOLAN'S VISITS ST. JOSEPH CEMETERY CONTINUING HIS ANNUAL VISITS TO THE CATHOLIC CEMETERIES FOR A NOVEMBER MASS

~ REJOICING IN THE GIFT OF ETERNAL LIFE AND RENEWING FAITH

~ THE CEMETERIES ARE AN ICON OF THE COMMUNION OF SAINTS

The day dawned bright and brisk and blue. Almost 225 worshippers gathered at the Chapel of Saint Joseph with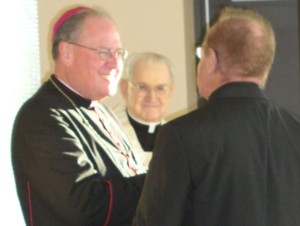 Archbishop Timothy M. Dolan to celebrate Mass together. It marks the third year he has visited one of the Archdiocesan cemeteries to pray for the faithful departed.

Fr. Marvin I. Lazarski, the Cemeteries' Spiritual Director; Fr. Donald Weber, regular celebrant at the monthly Mass at St. Joseph and Fr. Michael Michalski, pastor of St. Joseph Parish, the parish that owned and operated of the Cemetery until 1990, concelebrated with the Archbishop.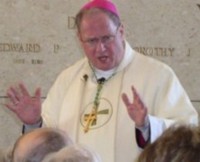 The Archbishop introduced the Mass commenting on the clarity of the Communion of Saints at every Catholic cemetery. He invited all to join in praising and thanking God as a living congregation along with the presence of the faithful departed.

During his homily, Archbishop Dolan'said: "We here make an act of faith in our God, the Lord of the living, not of the dead. In God's eyes, everyone is alive. Earthly death is only a transition. God is mindful of all he has created no matter which side of death we live on."
He commented: "Often at wakes and funerals I hear peo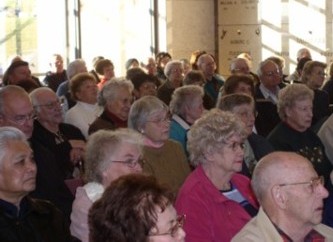 ple say: 'I don't know what I would do without my faith. If I didn't't have my faith, this would be a moment of emptiness, a moment of depression, a moment when I would only feel defeat. We thank god for the gift of our faith.'"

The Archbishop went on: "Every visit to a cemetery is an occasion to renew our faith."
He then turned to the French philosopher Voltaire who made destruction of the Catholic faith and the Church a goal of his life. "But in the end," the Archbishop commented, "Voltaire said, 'I give up. I give up. I cannot destroy faith, I cannot destroy the Church. There is nothing I can do. Because children will always stand before the open grave of their parents. At that moment you have faith.'"
The Archbishop concluded: "Death is an invitation of strengthen our faith. Every time we visit a cemetery we are accepting an invitation to strengthen our faith in the resurrection of the dead."
So, until next year (God willing, as the Irish say), we thank the Archbishop for the hope and faith of his presence and his preaching.