N E W S
MEDAL OF HONOR RECIPIENT — JOHN BREEN —
HONORED AT CALVARY ON SATURDAY, OCTOBER 2, 2004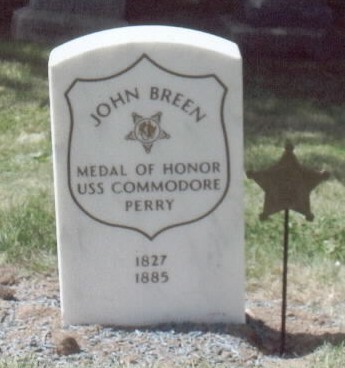 ~ TRIBUTE AND RECOGNITION
EXACTLY 142 YEARS AFTER HEROISM
& ALMOST 120 YEARS AFTER DEATH

Milwaukee's Calvary Catholic Cemetery held a special tribute and recognition ceremony on Saturday, October 2, 2004 for John Breen, a U.S. Navy Medal of Honor recipient and Civil War veteran, who distinguished himself "by his gallant conduct during a siege by Confederate troops on his ship in the Blackwater River in Franklin, Virginia."

"John Breen's remains have been unnoticed in Calvary Cemetery for almost 120 years with no grave marker. Thanks to the American Legion, local Civil War historians, and the Sons of Union Veterans of the Civil War, a gleaming white marble headstone will be dedicated at the final resting place of this Navy Medal of Honor recipient," said Tom Champa, director of cemeteries, Archdiocese of Milwaukee.

John Breen was born in Ireland in 1827, the son of William and Margaret Breen. In 1852 he found his way to America and enlisted in the U.S. Navy in May of that year under the name of Charles Mercer – "a prank of a young man." After serving three years he was discharged and married Ellen Grant at St. Joseph's Church in New York City later that year where they lived and John continued to earn a living as a sailor. The couple had five children. None survived until adulthood.

Breen enlisted in the U.S. Navy again when the Civil War commenced in 1861. He was assigned to several Navy vessels including the U.S.S. Brandywine, U.S.S. Seymour and U.S.S. Commodore Perry. It was aboard the Commodore Perry,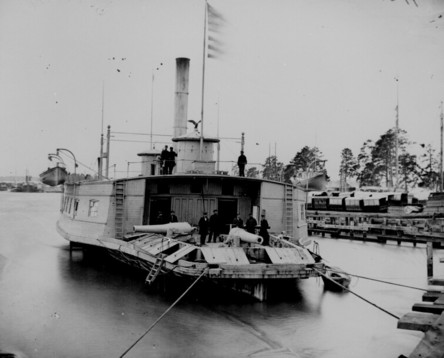 The U.S.S. Commodore Perry, named for brothers Commodores Oliver Hazard Perry and Matthew Calbraith Perry. A medium clipper ship built in 1854 by Donald McKay, East Boston. Her dimensions were 202'×42'×28' and weighed 1964 tons.

a side wheel steamer, where Boatswain's Mate Breen earned his Medal of Honor on October 3, 1862. He battled Confederate troops who were on the shore bluffs of the narrow Blackwater River shooting at the Union vessels. Under constant fire from 5:45am to 2:30pm, several ships of the U.S. Navy, including the Commodore Perry, repelled boarding attacks and maneuvered through felled trees meant to block their progress. Lt. Commander C.W. Flusser recommended John Breen for the Medal of Honor for his gallant conduct in the battle. He was honorably discharged in July, 1864.

In 1872 John and his wife Ellen moved to Milwaukee and lived in what is now the city's Historic Third Ward. Living near Lake Michigan made it easier for him to continue working as a sailor. He died of acute pneumonia in 1885.

His brother Walter assisted his wife Ellen in finding a respectful resting place in Calvary Catholic Cemetery on Milwaukee's west side. No marker stood on his grass grave in Block 5 when the researchers came to find his final resting place in 2004.

Through the combined efforts of the Wisconsin Department of the American Legion, the Sons of Union Veterans of the Civil War, and other Civil War patriotic groups, John Breen's new headstone stands as a silent witness to his gallant service to the Union and U.S. Navy.

The recognition service was led by members of the Sons of Union Veterans of the Civil War in period uniforms. The 45-minute program, included period military honors, incorporated some speeches with the triple laying of an evergreen wreath, a laurel wreath and a single rose. A short message was delivered by Vietnam War Medal of Honor Recipient Gary George Wetzel (U.S. Army). Marge Berres and Tom Ludka figured prominently in the event, as the original discoverers of the unmarked grave of John Breen.

There are seven Congressional Medal of Honor recipients buried in Milwaukee cemeteries. See photos of the other six graves at this site. Four are buried at Wood National; one at Arlington. Two are at Calvary. Other than John Breen, there is Edward McGinn (buried in Block 20, Lot 3) who was born on Nov. 20, 1843 and died September 24, 1908.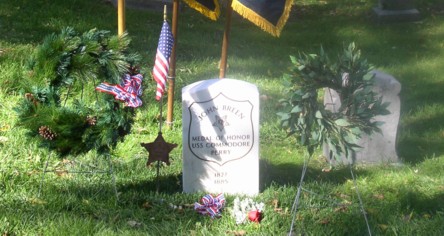 The thrice-decorated marker during Dedication Ceremony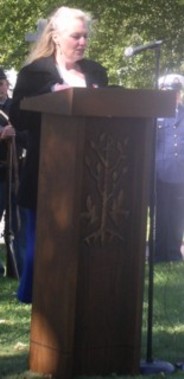 Civil War Sailor / Marge Berres / Gary George Wetzel (MOH Recipient)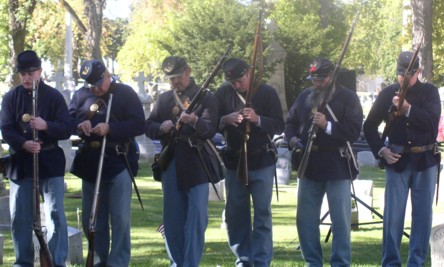 The Salute by Civil War Re-Enactors
Photo of Grave Marker by Tom Ludka