N E W S
MEMORIAL MASS FOR THE FAITHFUL DEPARTED CELEBRATED BY ARCHBISHOP TIMOTHY M. DOLAN ON SATURDAY, OCTOBER 30, 2004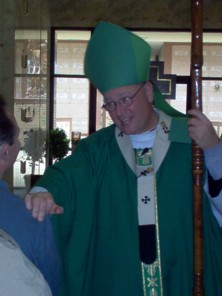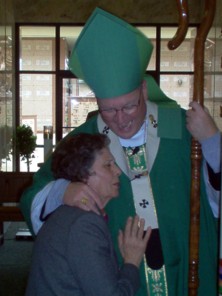 ~ ARCHBISHOP DOLAN'S FIRST VISIT TO HOLY CROSS CEMETERY

~ REJOICING IN THE GIFT OF ETERNAL LIFE

~ THE CEMETERIES ARE AN ICON OF THE COMMUNION OF SAINTS

Almost 150 worshippers gathered at the Chapel of The Holy Cross with Milwaukee's Archbishop, Timothy M. Dolan, to prepare for the month of November and to anticipate the two feasts which begin the month — All Saints Day on the 1st and All Souls Day on the 2nd.

Fr. Marvin I. Lazarski, the Cemeteries' Spiritual Director, and Fr. Russell F. Tikalsky, the regular celebrant of twice-monthly Masses at Holy Cross, concelebrated with the Archbishop.

The Archbishop introduced the Mass by saying: "...we commend to the Lord the souls of the faithful departed and we pray for continued consolation upon the families of the faithful departed, we remember the Poor Souls in purgatory and we praise God for the invitation to eternal life."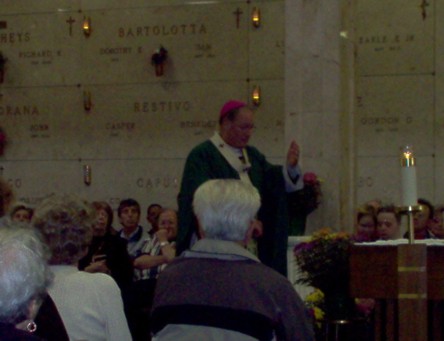 During his homily, Archbishop Dolan said: "We are reminded of the uplifting doctrine of the Communion of Saints. They are all as much of the Church as we are...We bask today in that extended family, the supernatural family we have as Catholics, as Christians, the Mystical Body of Christ. It's not just not limited to this life, but includes the next because that's the goal that all of us have."

In reflecting on the ministry of the Catholic Cemeteries, the Archbishop said: "I also thank God for the gift of our Cemeteries, they are such a powerful reminder to us of the Communion of Saints, of the gift of everlasting life that Jesus promises, of the fact that they are a reminder to us of our eternal destiny."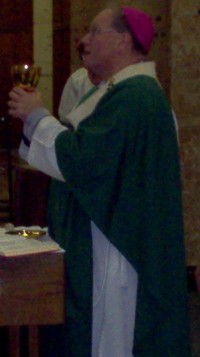 He thanked Tom Champa, the Director of Cemeteries, and all the staff of "the wonderful Catholic Cemeteries" for maintaining the Cemeteries and "providing a place for prayer, reverence and remembrance. " He expressed immense gratitude for the daily ministry of the Cemeteries on behalf of the people of the Archdiocese, especially the ministry to the grieving by Fr. Marv, the Spiritual Director. He acknowledge how the Cemeteries take care of the grieving, offer consolation and "usher people into the gift of everlasting life."

In departing, the Archbishop wished for a yearly renewal of his presence at the Cemeteries. It is his desire to commemorate the faithful departed, especially those who died in the last year, and to offer Mass for their souls.

So be it!